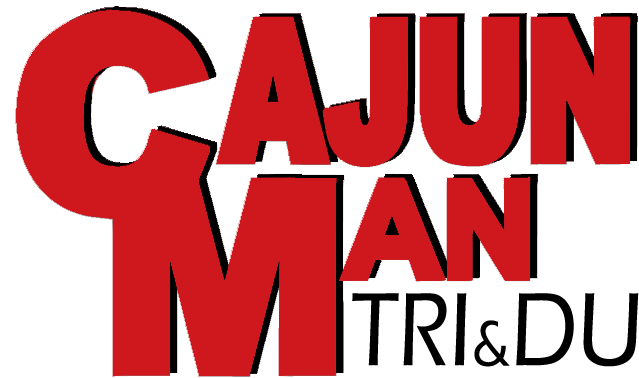 Sign up now for the Cajunman Triathalon and Duathalon! The event is Sunday, August 28th, at 7:30 am. This is an Acadiana tradition.

There's a 1/2 mile swim in the Lafayette regional airport lake, a 20 mile bike ride, and a 5K run on the grounds of the Lafayette airport. There are shorter distances for beginners. Awards will be presented.
Proceeds benefit TRAIL, a local organization building parks & things to improve life in Acadiana.

For fee information & more: https://www.latrail.org/cajunman

More about TRAIL: https://www.latrail.org/
TRIATHLON Race Distances

The SWIM — 1/2 mile
This is an open water swim. Water temperatures will most likely be in the mid-70F range. Use of wet suits is subject to USA Triathlon rules. The wetsuit call will be made after temperatures are taken race morning. Bring your wetsuit if you are so inclined. There will be boats and other water safety aid available during the swim. You should be able to swim at least ½ mile before deciding to enter this event. All swimmers will be required to wear swim caps, which will be provided.
THE BIKE — 20 miles
This is an out and back course. The 20 mile bike course is down Garber Rd, to the St. Martinville Hwy and then onto Bayou Tortue Rd. and back. All turns will be marked. Volunteers will be on the course.
THE RUN — 5K (3.1 miles)
The run will start and finish near the transition area near Airport Lake. THERE ARE 5 STOPS FOR WATER ON THE RUN. AT THE START OF THE RUN, MILE 1, HALF-WAY, MILE 2 AND RIGHT BEFORE THE FINISH.
Relay Teams
Don't want to do the whole race? Come race as a team! Each team member will compete in one of the individual sports. Relay teams must have a minimum of 2 participants. (Yes, one team member can do 2 sports while the other team member does the other sport.)
USA Triathlon Sanctioned Race
This race is being sanctioned with USAT. You, including all relay team members, must be a licensed USA Triathlon member at the time of registration or buy a one-day license to participate for $15.00
Click HERE to buy it.
If you are planning on participating in the SUGARMAN TRI/DU maybe an annual membership is for you! www.usatriathlon.org
OTHER DISTANCES:
Duathlon: 5K Run / 20-mile Bike / 5K Run
Beginner: 400-meter Swim / 20-mile Bike / 5K Run