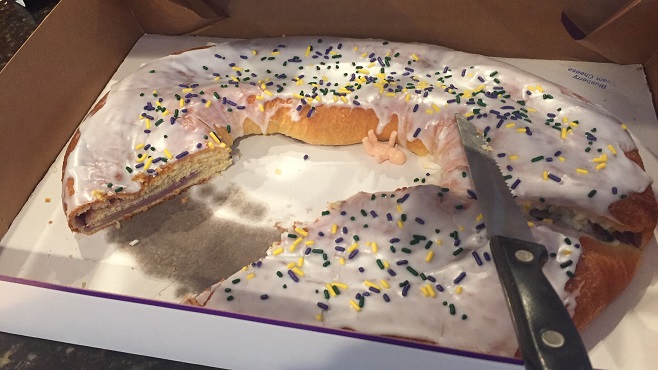 For the last month, I was part of a Diet Challenge. My sisters and I decided to participate together to help get back in shape since the Christmas holidays left us with a few extra pounds. This challenge, however, was during the height of Mardi Gras King cake season. While I am filling up on veggies, trying to lose a few pounds everyone else in Louisiana is having so much fun devouring king cake. I couldn't wait to have one! After asking lots of people including Facebook, most suggested Keller's Bakery, as the place to go to get a king cake. So the first day after the Diet Challenged, I called Keller's Bakery in Youngsville.
Keller's Bakery in Youngsville is located just off of the Youngsville Highway, a few miles south of the Ambassador Extension, just south of Fortune Road. The bakery is closed on Sunday and Monday. This is a busy season for them so don't expect to show up and be able to get a king cake. It is better to call and place an order. The menu is available on their Facebook Page. I love when an online menu includes prices. It helps you plan your order.
Now on the day, I realized that I wanted to order a king cake, it just so happened to be a Monday. A day that the bakery is closed. But that's ok. You can still call and leave your order with the answering machine. So that is exactly what I did. Keller's returned my call within a couple of hours and confirmed my order. The lady on the phone was so gentle, sweet, and polite. For that brief moment, I enjoyed talking to her so much. Sometimes nice people are rare and you have to appreciate them.
We picked up the King cake the next day. It was super soft, buttery, and almost flaky. I ordered the small size that should feed 7 people. But the three of us skipped lunch and finished it off within a couple of hours. I know, embarrassing. It was so good! This king cake will not leave you in a sugar coma. It is the perfect blend of sweet and cream inside a pastry.
For this reason, Keller's Bakery in Youngsville is this week's Lundi Love featured business!