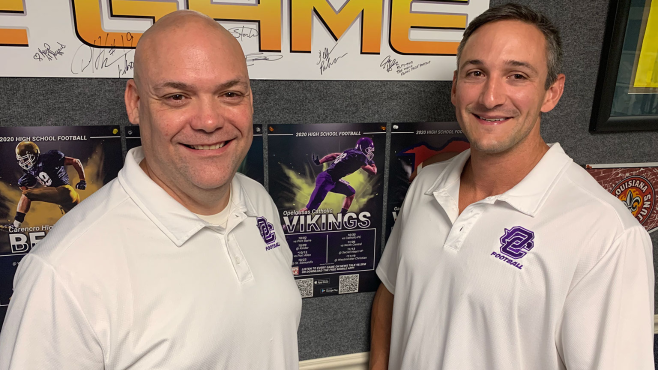 Opelousas Catholic will be looking to build off a successful 2019 season.
The Vikings went 9-1 during the regular season and reached the Division IV quarterfinals. With two-sport star Keon Coleman and other starters returning, OC aims for even bigger things in 2020.
Viking fans can follow all the exciting action all season on News Talk 98.5 FM and 1520 AM. Monty Hanks will serve as the play-by-play announcer while Seth Richard will provide color commentary.
"I get extremely excited when football season comes around," Hanks said. "It's been in my blood since I was born. I'm really looking forward to broadcast OC football on the new station with Delta Media, being able to bring the success of the Vikings to many more listeners."
In addition to listening to OC football on the radio dial, Viking fans can listen online at www.newstalk985.com or on the free News Talk 98.5 mobile app."
OC Vikings Schedule
10-02 Port Barre at Opelousas Catholic
10-09 Opelousas Catholic at Kinder
*10-15 Port Allen at Opelousas Catholic
10-23 Opelousas Catholic at St. Edmund's
10-30 Catholic-PC at Opelousas Catholic
11-06 North Central at Opelousas Catholic
11-13 Opelousas Catholic at Sacred Heart-VP
*11-19 Opelousas Catholic at Westminster Christian
*Thursday game