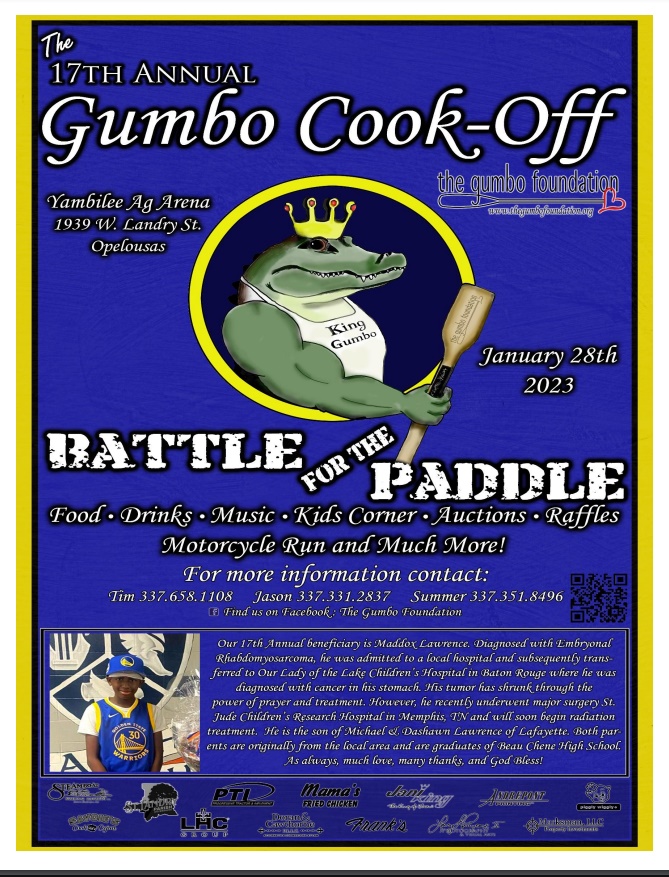 The Gumbo Foundation is holding its 17th annual cookoff on January 28th. They hold this event every year to benefit someone in need. This year's beneficiary is 12-year-old Maddux Lawrence. He was diagnosed with Embryonal Rhabdomyosarcoma last June. Maddox is currently being treated at St. Jude Children's Research Hospital. His parents, Michael, and Dashawn Lawrence are alumni of Beau Chene High School. Maddox's older brother is at home.l His sister is pursuing a medical degree in Baton Rouge.
All proceeds from the event will go to benefit Maddox.
The cookoff is the main event. There will also be a Motorcycle & Jeep Run, Kid's Activity Area, Silent and Live Auctions, Food, Drinks, live Music, and Dancing. It's free to attend.
The entry fee is $50.00 per team. Donations can be made to The Gumbo Foundation, P.O. Box 1478, Opelousas, LA 70571. Donations are tax-deductible.
For more details, Tim Marks (337) 658-1108, Jason Huguet (337) 331-2837, or Summer Le (337) 351-8496.
Source: The Gumbo Foundation